Seeking diverse experiences of Long COVID
Researchers are partnering with patients and communities across the United States to learn more about the long-term effects of COVID.
Community Voices
Patients, caregivers, and community members are involved across all levels of the RECOVER Initiative, including serving on the Executive Committee, Steering Committee, Task Forces and Oversight Committees, and on Community Advisory Boards at RECOVER study sites.
Learn more about RECOVER Leadership
RECOVER's National Community Engagement Group
RECOVER's National Community Engagement Group (NCEG) serves as a central forum to promote meaningful discussion through authentic partnership and shared decision-making.
The NCEG members:
place equity and the experience of patients, caregivers, and community members at the center of RECOVER;
include 4 co-chairs, with over half of the members identifying as patients; and
serve one-year terms with option to continue for one more year, and provide meaningful input into RECOVER research, communication activities, and more.
All 4 NCEG co-chairs sit on the Steering Committee and 2 co-chairs sit on the Executive Committee.
Learn about NCEG selection and more on our FAQ page.
RECOVER's Patient and Community Engagement Strategy
RECOVER's Patient and Community Engagement Strategy describes how RECOVER will engage people affected by Long COVID. RECOVER seeks to involve patients and communities in a meaningful and collaborative way. The strategy helps ensure that we include people from all communities and backgrounds.
National Community Engagement Group
50%
of members identify as patients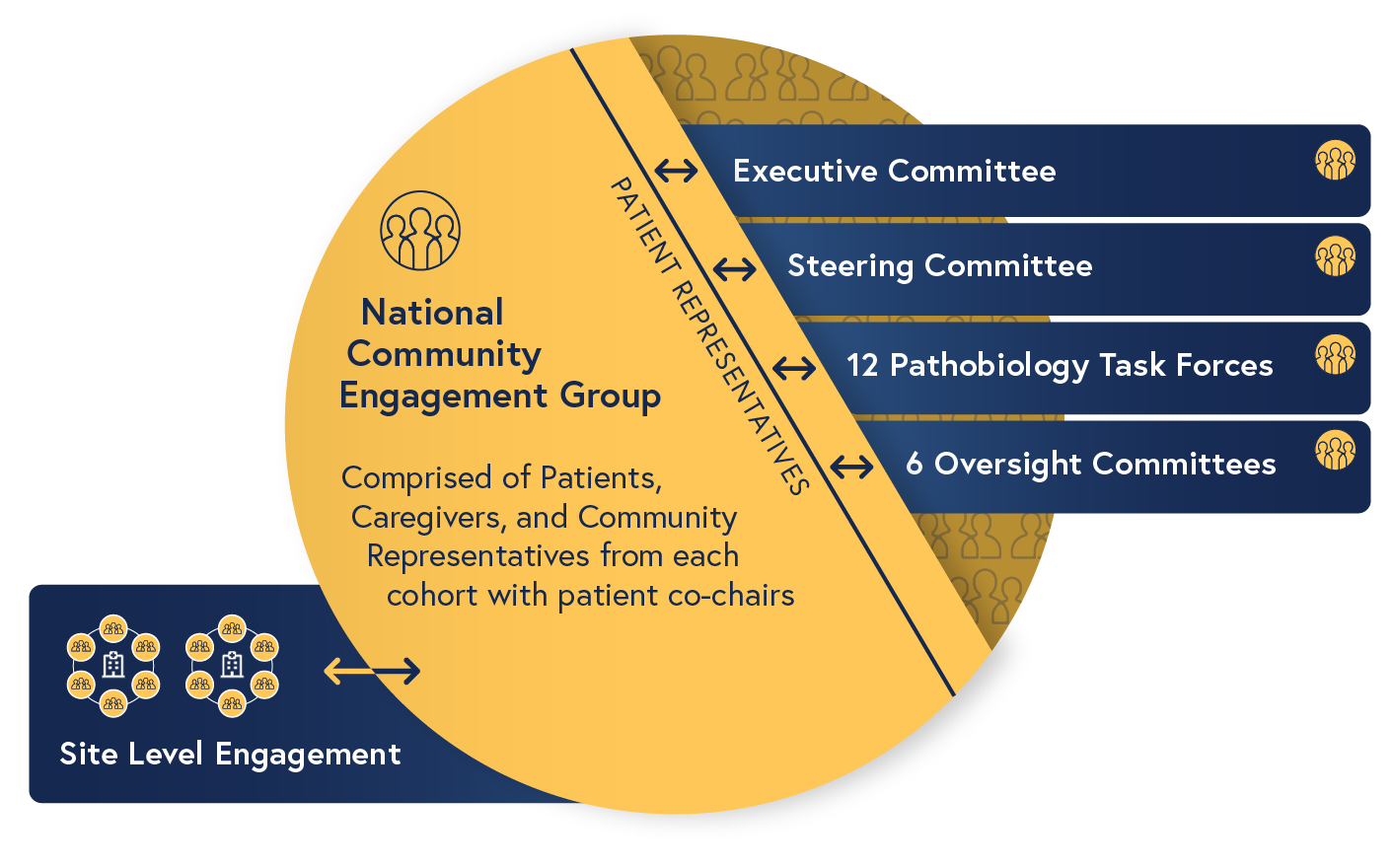 Community Impact
The perspectives and collaboration of patients, caregivers, and community members continue to shape RECOVER research and provide meaningful input. Public input has made an impact on RECOVER studies and how we communicate.
Examples of community impact include:
Patients connected in online forums and social media sharing their concerns and experiences about Long COVID. This helped lead to the creation of the RECOVER Initiative.
Input from over 100 patients gathered at RECOVER listening sessions and through research showed us the need to publicly recognize and share the message that "Long COVID is real." RECOVER continues to listen first and test often as we develop communication materials.
In response to community needs and to support communities hardest hit by COVID, the NIH funded the Community Engagement Alliance (CEAL) Against COVID-19 Disparities. CEAL uses active, community-engaged research and outreach to find effective ways to get information to communities. CEAL continues and is working alongside RECOVER to raise awareness of Long COVID.
A workgroup of 26 patient representatives gave input on the RECOVER Adult Study Protocol and symptom checklists. Based on patient input, a PCR-confirmed test for COVID is no longer required to participate in a RECOVER study. The workgroup included a diverse group of patients, caregivers, and community members, now called the NCEG. Most recently, input from this group led to the expansion of the inclusion criteria for infected individuals with suspected, probable, or confirmed COVID infection from 24 months to 36 months within enrollment, giving even more people the opportunity to volunteer for RECOVER studies.
Based on community input, RECOVER created a standing task force to focus on the similarities between Long COVID, ME/CFS, and other post-acute infection syndromes.
Since RECOVER began, we've received more than 1,600 direct inquiries and more than 900 people have attended RECOVER patient experience discussions. We use your questions to inform our activities and communications, including the FAQ page on recoverCOVID.org.
Your Voice
Long COVID is real and many people are suffering. But not enough people know about Long COVID. There are multiple ways patients, caregivers, and community members can get involved.
Ways to Get Involved
Representation Across Governance Structure
Patient Portal
Mobile Health Platform for Patient-Reported Outcomes
Social Media Outreach
RECOVER Research Review (R3) Seminar Series
RECOVER Newsletter
Listening Sessions
Partner Promotion
RECOVER wants to hear from more people, even if they don't participate directly. We're taking steps to improve how we share what we're doing and how we share information, and to make sure that our communications reach the most people. Your input is welcome. You don't need to be enrolled in a RECOVER study for your voice to be heard.
If you have family, friends, or neighbors that want to know more about RECOVER, please share this website and our Contact page with them.