Research
Making progress toward recovery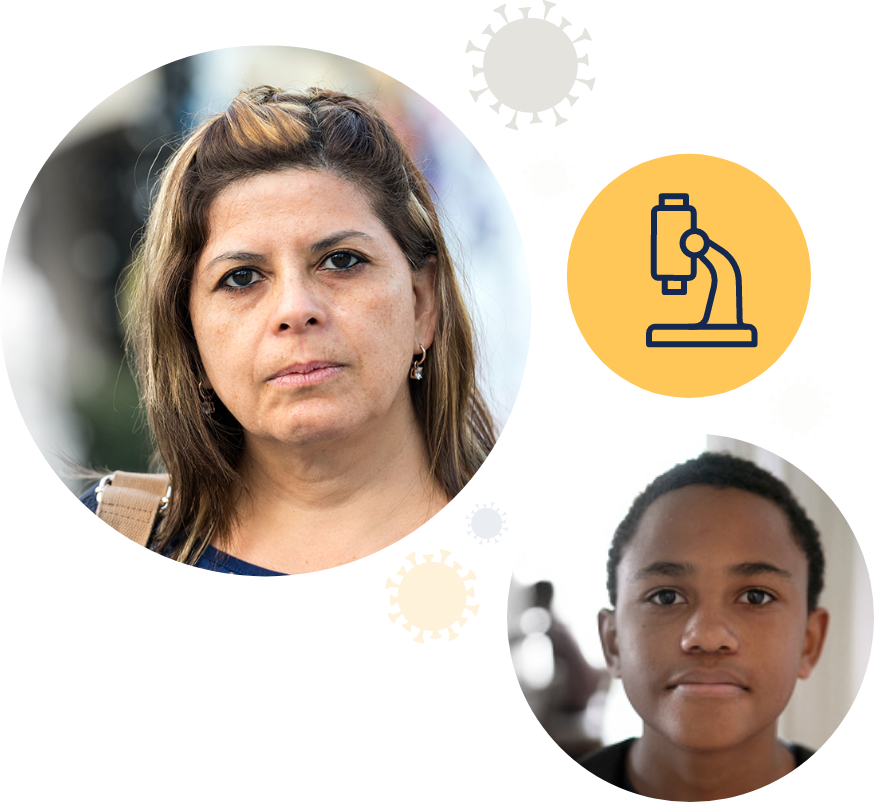 Together we can do more. The RECOVER Initiative brings together scientists, clinicians, patients and caregivers to understand recovery from the long-term effects of COVID and how to predict, treat, and prevent the disease.
Explore

Research

RECOVER Research Components
RECOVER Research Components
RECOVER's robust national research network has the depth and breadth of expertise needed to solve the mystery of Long COVID. The five RECOVER research components are at the core of RECOVER's research efforts. Learn more.
How Research Works
How Research Works
Learn more about how RECOVER studies work, access RECOVER research protocols, and understand what to expect as a participant in RECOVER studies.
Community Participation
Community Participation
RECOVER includes community voices at all levels of the initiative, as we seek diverse experiences to inform our research.
RECOVER Research
Questions
The goal of RECOVER is to understand, prevent, and treat the long-term effects of COVID-19. RECOVER has eight guiding research questions whose answers will help us achieve our goal. This summary represents the invaluable contributions of many people and communities and will be updated as new RECOVER findings are published.
The answers that follow summarize findings from RECOVER research publications. They are not intended to summarize, nor do they incorporate research on Long COVID beyond the RECOVER Initiative.
Post-COVID conditions have different names including Long COVID and post-acute sequelae of SARS CoV-2 infection (PASC), which includes Long COVID. The terms used below reflect those used in the specific studies that are summarized.
Content last reviewed October 2023.
RECOVER
Together
Progress takes the best science.
The RECOVER Initiative will collect data from many patients across the country. This will include studies that:
Use data from medical records to understand how people are experiencing Long COVID.
Examine tissues from research participants to understand changes inside the body.
Test different treatments for symptoms experienced by patient participants with Long COVID.
By exploring different ways that people's bodies are affected by COVID and looking at which treatments may be effective, we can better understand Long COVID. We will then combine all of these data to help answer big questions about PASC, including Long COVID.
The detailed study plan—called the main protocols—is the same for each type of RECOVER study. Using the same study plan for each study type lets us combine data from those studies even though they are taking place at multiple locations. This helps us get answers to important questions faster.
We designed RECOVER so that each type of study brings specific kinds of information that will help us predict, treat, and prevent Long COVID. Various groups of people—known as cohorts—will be included in RECOVER observational cohort studies and RECOVER clinical trial studies. These groups include adults, children and their caregivers, and pregnant women and their newborn babies. Including many different people in RECOVER cohorts will help us understand how different people experience the long-term effects of COVID.
Improving Understanding Through Collaboration
The NIH All of Us Research Program offers COVID-related data and research tools to RECOVER investigators to help drive understanding of the long-term effects of COVID, including Long COVID and other types of PASC (post-acute sequelae of SARS-COV-2 infection). Through the All of Us Researcher Workbench, interested researchers can access the COVID-19 Participant Experience (COPE) survey, electronic health records (EHR), wearable, and genetic data. To explore the kinds of data available through All of Us and register for access, visit the All of Us Research Hub.