NIH launches long COVID clinical trials through RECOVER Initiative, opening enrollment
July 31, 2023
•
recoverCOVID.org
Today, the National Institutes of Health launched and is opening enrollment for phase 2 clinical trials that will evaluate at least four potential treatments for long COVID, with additional clinical trials to test at least seven more treatments expected in the coming months. Treatments will include drugs, biologics, medical devices and other therapies. The trials are designed to evaluate multiple treatments simultaneously to identify more swiftly those that are effective. Part of the NIH's Researching COVID to Enhance Recovery (RECOVER) Initiative, the trials were informed by findings from other RECOVER research over the past two years and focus on several of the symptoms described as most burdensome by people experiencing long COVID. With its complementary research efforts, RECOVER has positioned NIH to design and conduct trials that have the potential to provide long COVID patients who experience varying symptoms with relief sooner than any individual study can alone.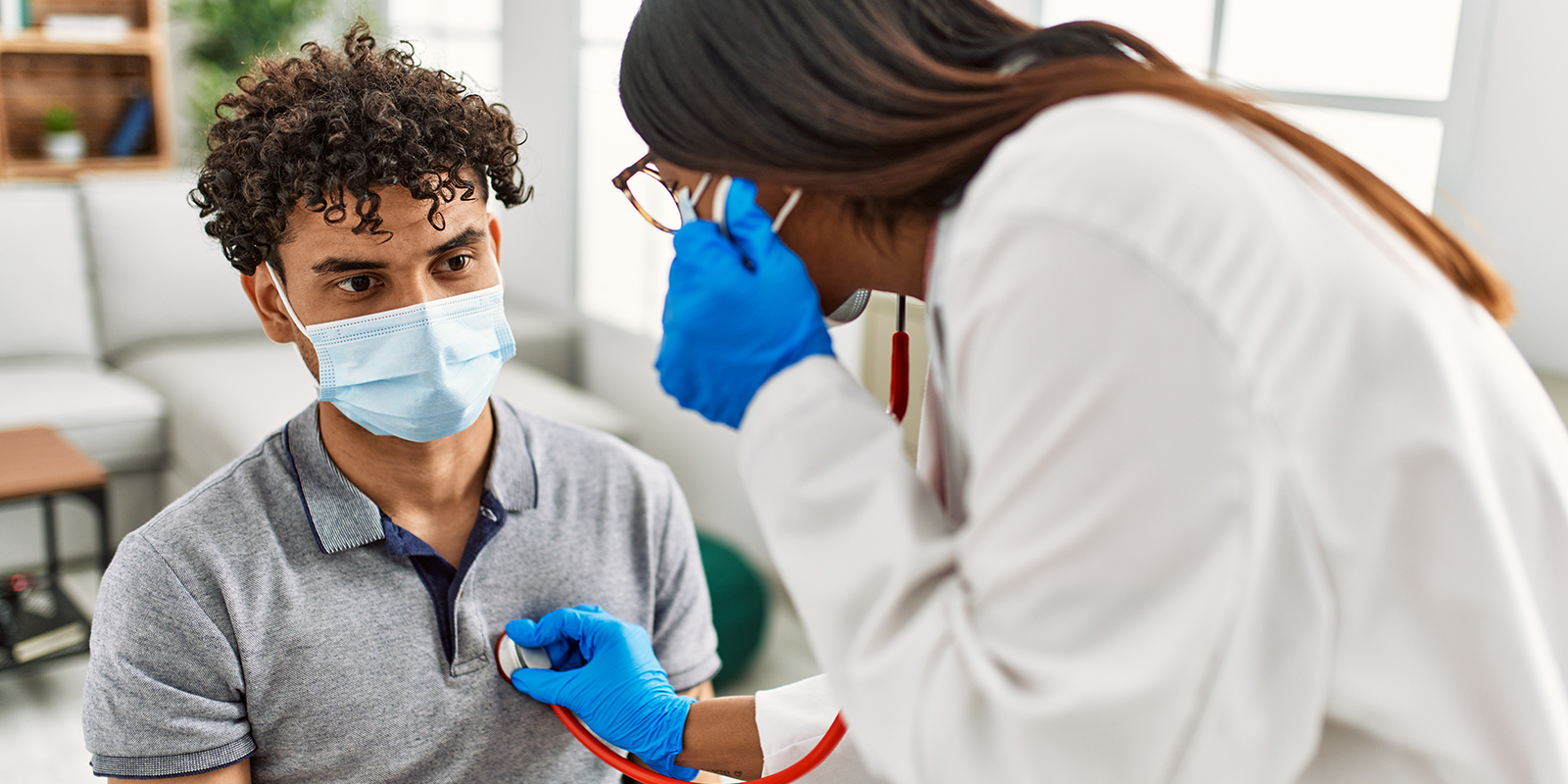 "We know that when patients are suffering, we can never move fast enough," said Acting NIH Director Lawrence A. Tabak, D.D.S., Ph.D. "NIH is committed to a highly coordinated and scientifically rigorous approach to find treatments that will provide relief for the millions of people living with long COVID."
RECOVER is a large, nationwide research program designed to understand, treat and prevent long COVID, which is marked by long-term symptoms following infection by SARS-Cov-2, the virus that causes COVID-19. The initial stage of the initiative involved launching large observational multi-site studies examining and following people through their experience with COVID-19 to learn why some people develop long-term symptoms while others recover completely. These studies are ongoing and have recruited more than 24,000 participants to date. Researchers also are analyzing 60 million electronic health records and conducting more than 40 pathobiology studies on how COVID-19 affects different body tissues and organs. Data gleaned from these efforts helped shape the development of the phase 2 clinical trials, which test the safety and effectiveness of treatments typically in groups of 100-300 participants.
"Hundreds of RECOVER investigators and research participants are working hard to uncover the biologic causes of long COVID. The condition affects nearly all body systems and presents with more than 200 symptoms," said Walter J. Koroshetz, M.D., director of the NIH's National Institute of Neurological Disorders and Stroke, and co-lead of the RECOVER Initiative. "Recognizing that more than one solution is likely needed, we've taken the lessons learned from RECOVER participants to design rigorous clinical trial platforms that will identify treatments for persons with different symptom clusters to improve their function and well-being."
The trials that launched today will focus on viral persistence and cognitive dysfunction using "platform protocols," a term used to describe the adaptive design of these trials.
RECOVER-VITAL will initially focus on a treatment targeting SARS-CoV-2 persistence, which could occur if the virus stays in the body and causes the immune system to not function properly or damage to the organs. The first intervention will test a longer dose regimen of the antiviral PAXLOVID (nirmatrelvir and ritonavir) than is used for treating acute COVID to see if it improves the symptoms of patients with long COVID. PAXLOVID is provided by Pfizer, Inc., New York City, and is currently approved for the treatment of mild-to-moderate COVID-19 in adults who are at high risk for progression to severe COVID-19, including hospitalization or death. The first trial sites have been activated and are enrolling.
RECOVER-NEURO will examine accessible interventions for cognitive dysfunction related to long COVID, including brain fog, memory problems and difficulty with attention, thinking clearly and problem solving. Interventions under this protocol will include a web-based brain training program called BrainHQ, developed by Posit Science Corporation in San Francisco, that has been used to improve cognitive function; PASC-Cognitive Recovery, a web-based goal management training program, developed by Mount Sinai Health System, New York City, that has been used to improve executive function; and a device used for home-based transcranial direct current stimulation developed by Soterix Medical, Inc., Woodbridge, New Jersey, which has been demonstrated to help brain activity and blood flow. Trial sites are currently being activated.
Additional trials, based on the below platform protocols still under review, will launch in the coming months:
RECOVER-SLEEP will test interventions for changes in sleep patterns or ability to sleep after having COVID-19. A trial for hypersomnia, or excessive daytime sleepiness, will test two wakefulness-promoting drugs compared to a placebo control. A second trial for sleep disturbances, such as problems falling or staying asleep, will test other interventions designed to improve sleep quality to learn if these interventions may help regulate sleep patterns in adults with long COVID.
RECOVER-AUTONOMIC will examine interventions to help treat symptoms associated with problems in the autonomic nervous system, which controls a range of bodily functions including heart rate, breathing and digestive system activity. The initial trial will focus on postural orthostatic tachycardia syndrome (POTS), a disorder with a number of symptoms including irregular heartbeat, dizziness and fatigue, and will have multiple study arms. The first arm will evaluate a treatment used for immune diseases versus placebo. The second arm will evaluate a drug currently used to treat chronic heart failure in people with an elevated heart rate versus placebo. Participants within each arm will then be randomized to receive either more intensive coordinated care that does not involve additional medication, or usual care.
A fifth platform protocol, focusing on exercise intolerance and fatigue, is under development with input from the patient community and scientific experts.
All trials are designed to individually and collectively accelerate the identification of safe and effective treatments for some of the most debilitating symptoms of long COVID. Study interventions were reviewed by teams of scientists and patient representatives and approved by NIH leadership based on ideas submitted through a May 2022 request for applications.
"Clinical trials to test effective treatments and interventions are a core component of the whole-of-government response to long COVID," said Adm. Rachel L. Levine, M.D., Assistant Secretary for Health, Department of Health and Human Services. "Coupled with adequate supports and services, access to clinical care and up-to-date information on what we know about long COVID, we can work toward relief for individuals and families impacted most."
RECOVER is committed to enrolling a study population that is inclusive and representative of the communities most affected by long COVID. Study sites will partner with local communities to raise awareness about long COVID and offer opportunities to participate in the RECOVER clinical trials. Researchers developed the trials with extensive feedback from patient representatives, experts in the symptom areas and proposed interventions, and after reviewing hundreds of proposals.
A Data and Safety Monitoring Board made up of an independent group of experts will monitor participant safety throughout the trial and provide recommendations.
"Our patient and community representatives have provided critical input to help us ensure that the results of these trials are applicable to people across the country and become available as soon possible," said Kanecia Zimmerman, M.D., Ph.D., M.P.H., principal investigator of the RECOVER Clinical Trials Data Coordinating Center, Duke Clinical Research Institute, Durham, North Carolina.
Trials will continue to launch and enroll participants on a rolling basis. Enrollment will take place at clinical research sites located throughout the United States. A track record for enrolling diverse participants was a key criterion for site selection. These trials will follow a traditional clinical trial recruitment strategy in that sites will contact their patients and residents in their local communities to enroll in the trials.
Those interested in learning more about RECOVER trials should visit https://trials.recovercovid.org/.
About RECOVER: The National Institutes of Health Researching COVID to Enhance Recovery (NIH RECOVER) Initiative is a $1.15 billion effort, including support through the American Rescue Plan Act of 2021, that seeks to identify how people recuperate from COVID-19, and who are at risk for developing post-acute sequelae of SARS-CoV-2 (PASC). Researchers are also working with patients, clinicians, and communities across the United States to identify strategies to prevent and treat the long-term effects of COVID – including long COVID. For more information, please visit recovercovid.org.
About the National Institutes of Health (NIH): NIH, the nation's medical research agency, includes 27 Institutes and Centers and is a component of the U.S. Department of Health and Human Services. NIH is the primary federal agency conducting and supporting basic, clinical, and translational medical research, and is investigating the causes, treatments, and cures for both common and rare diseases. For more information about NIH and its programs, visit www.nih.gov.
HHS Long COVID Coordination: This work is a part of the National Research Action Plan (opens pdf), a broader government-wide effort in response to the Presidential Memorandum directing the Secretary for the Department of Health and Human Services to mount a full and effective response to long COVID. Led by Assistant Secretary for Health Admiral Rachel Levine, the Plan and its companion Services and Supports for Longer-term Impacts of COVID-19 (opens pdf) report lay the groundwork to advance progress in the prevention, diagnosis, treatment, and provision of services for individuals experiencing long COVID.
NIH...Turning Discovery Into Health