RECOVER-NEURO enrolls first participant in trial
September 5, 2023
•
recoverCOVID.org
RECOVER-NEURO, a clinical trial examining how different interventions can help people with symptoms of cognitive dysfunction related to long COVID, has enrolled its first participant.
RECOVER-NEURO is part of the National Institutes of Health Researching COVID to Enhance Recovery (RECOVER) Initiative, and all RECOVER clinical trials are coordinated by the Duke Clinical Research Institute (DCRI). The RECOVER-NEURO clinical trial is led by co-chairs David Knopman, M.D., at Mayo Clinic; Deborah Koltai, Ph.D., at Duke University Medical Center; and Daniel Laskowitz, M.D., M.H.S. at the DCRI. Trial interventions will be supported remotely by NYU Langone Health (NYU) researchers, including co-principal investigator Leigh E. Charvet, Ph.D. and a technology team led by Giuseppina Pilloni, Ph.D.; and the Icahn School of Medicine at Mount Sinai, including co-principal investigators Juan Wisnivesky, M.D., Dr.P.H., Alex Federman, M.D., and Jacqueline Becker, Ph.D.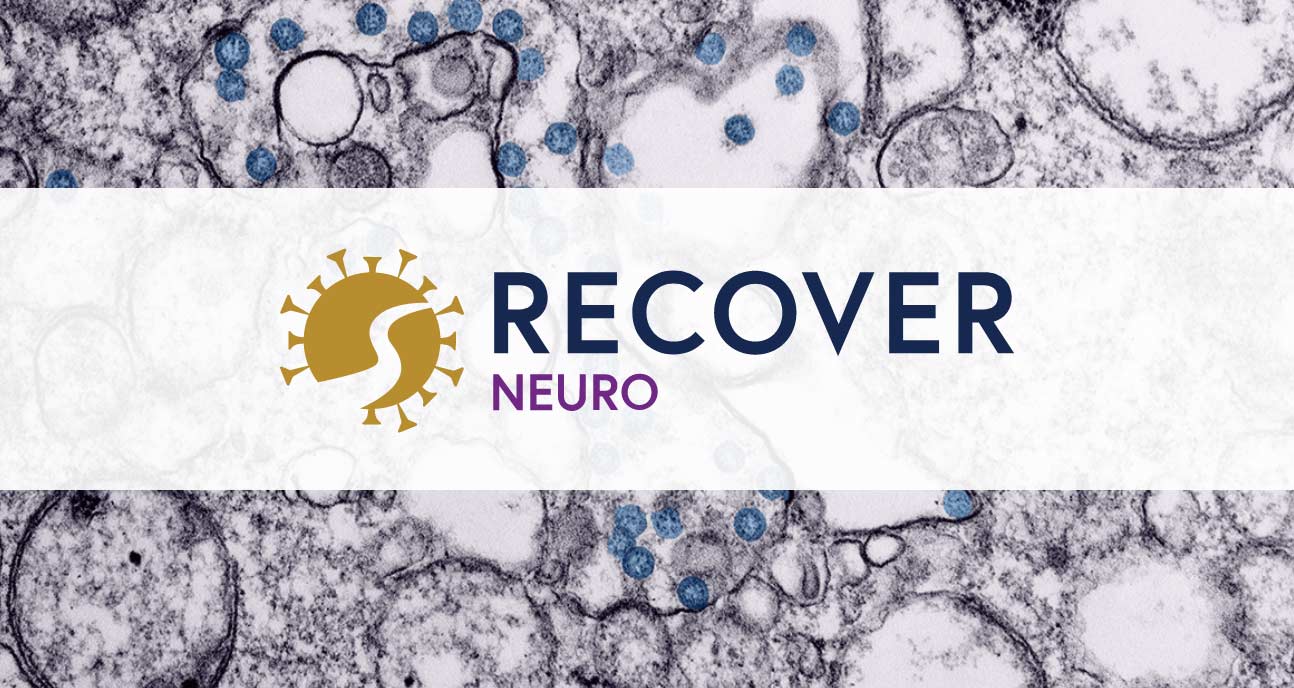 The RECOVER-NEURO platform protocol was developed with input from experts in the selected interventions and long COVID patient representatives. A platform protocol refers to a type of protocol that tests multiple, targeted therapies for a single disease simultaneously. Platform protocols often include an adaptive design that may eliminate or add treatments based on ongoing analyses.
The leadership team will continue to work closely with other members of the RECOVER-NEURO team, including long COVID patient representatives and community members, doctors, researchers, and biostatisticians, to implement and monitor the conduct of the study.
The cognitive effects associated with long COVID can range from subtle to extremely disabling, and they may interfere with daily function and significantly impair quality of life. "The treatment of long COVID remains a significant unmet medical need. The development of systematic treatment has been challenged by our incomplete understanding of the underlying biology and natural history of this disorder," said Daniel Laskowitz, M.D., M.H.S. "RECOVER-NEURO represents a landmark study to better understand and treat the cognitive dysfunction associated with long COVID."
RECOVER-NEURO is studying possible treatments to improve working memory, attention, executive functions, and information processing speed for people who have long COVID. All participants will complete the interventions from home with support from NYU using video visits. The interventions include:
BrainHQ: this intervention is an interactive online brain training program developed by Posit Science Corporation in San Francisco. Participants will complete BrainHQ cognitive activities that are designed to improve memory, attention, and brain processing speed — the time it takes to understand and respond to information. Participants in the BrainHQ intervention group will complete cognitive activities that continuously adapt, getting a little easier or harder depending on a participant's individual progress. Participants in the active comparator group will complete cognitive activities through the BrainHQ platform that do not adapt to participant's individual progress.
BrainHQ and PASC Cognitive Recovery (PASC-CoRE): PASC-CoRE is a virtual cognitive rehabilitation program for people with PASC (post-acute sequelae of SARS-CoV-2 infection), or long COVID, developed by the Mount Sinai Health System in New York City. Participants in this intervention group will meet virtually with trained study professionals to plan and manage personal goals, learn strategies to improve focus and attention, and gain skills to manage mental tiredness. Mount Sinai will deliver the PASC-CoRE intervention to small groups of participants.
BrainHQ and Transcranial Direct Current Stimulation (tDCS): tDCS is a safe, noninvasive form of brain stimulation that may "boost" cognitive training outcomes and brain health. NYU developed and validated a remotely supervised tDCS (RS-tDCS) home-based intervention that is paired with BrainHQ, using customized devices made by Soterix Medical, Inc., in Woodbridge, New Jersey. Participants in this intervention group will wear a headset connected to the tDCS device while they complete the cognitive activities. The tDCS device will be programmed to deliver a mild current either continuously (active tDCS) or briefly (comparator tDCS) directed to the regions involved during the BrainHQ activities.
RECOVER-NEURO will enroll approximately 315 total participants for a 10-week study intervention period, with a follow-up visit after 90 days. Enrollment will take place at clinical research sites located throughout the United States. A track record for enrolling diverse participants is a key criterion for site selection. Site staff will contact their patients and residents in their local communities to enroll a diverse and inclusive study population. All trial sites will be listed on the RECOVER-NEURO clinicaltrials.gov study record.
Those interested in learning more about RECOVER clinical trials should visit trials.recovercovid.org.
About RECOVER: The National Institutes of Health Researching COVID to Enhance Recovery (NIH RECOVER) Initiative is a $1.15 billion effort, including support through the American Rescue Plan Act of 2021, that seeks to identify how people recuperate from COVID-19, and who are at risk for developing post-acute sequelae of SARS-CoV-2 (PASC). Researchers are also working with patients, clinicians, and communities across the United States to identify strategies to prevent and treat the long-term effects of COVID – including long COVID. For more information, please visit recovercovid.org.