RECOVER-VITAL enrolls first participant in trial
July 31, 2023
•
recoverCOVID.org
RECOVER-VITAL, a clinical trial examining if the antiviral PAXLOVID (nirmatrelvir and ritonavir) improves symptoms for people who have long COVID, has enrolled its first participant.
RECOVER-VITAL is part of the National Institutes of Health Researching COVID to Enhance Recovery (RECOVER) Initiative, and all RECOVER clinical trials are coordinated by the Duke Clinical Research Institute (DCRI). The RECOVER-VITAL clinical trial is led by co-chairs Kanecia Zimmerman, M.D., Ph.D., M.P.H., at the DCRI, and Richard Whitley, M.D., at the University of Alabama at Birmingham, and co-principal investigator Lindsey Baden, M.D., at Brigham and Women's Hospital.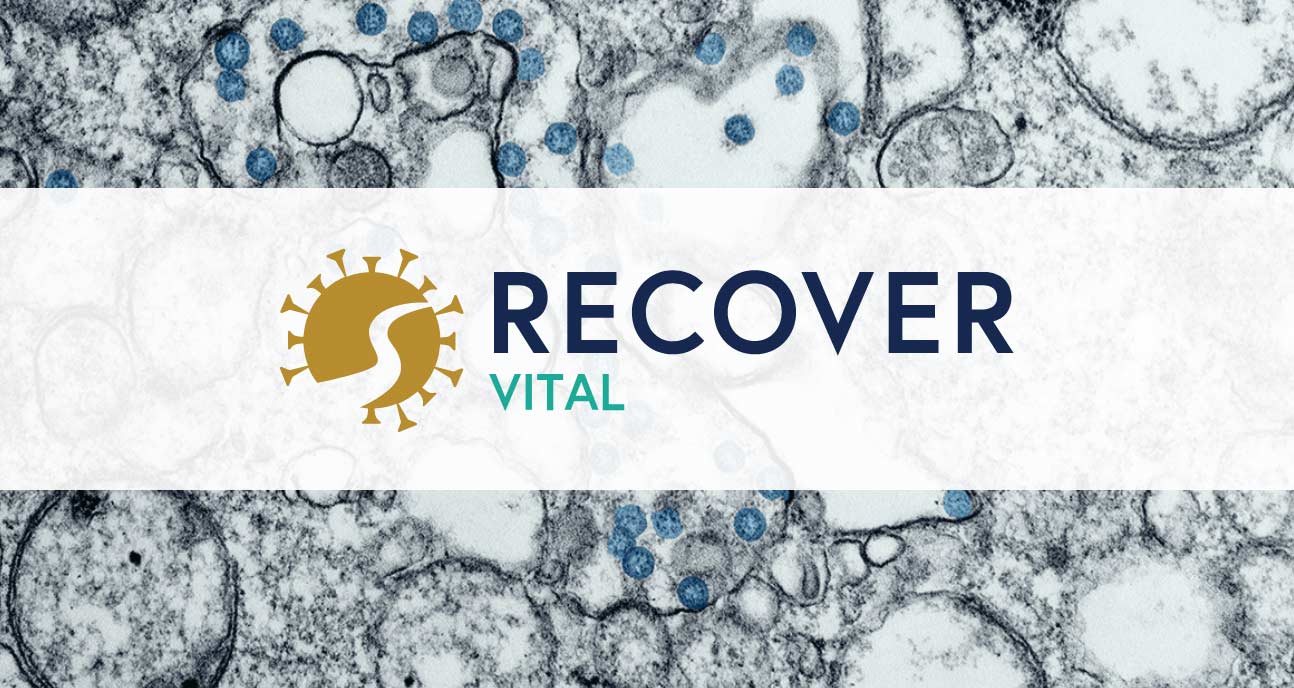 The leadership team works closely with other members of the RECOVER-VITAL team, including long COVID patients and community members, doctors, researchers, and biostatisticians, to implement and monitor the conduct of the study. Patient representatives also participated in a working group to develop the platform protocol used in the study. A platform protocol refers to a type of protocol that tests multiple, targeted therapies for a single disease simultaneously. Platform protocols often include an adaptive design that may eliminate or add treatments based on ongoing analyses. All team members are valuable contributors to this important research and share their knowledge and experience to help guide the study.
Researchers believe that viral persistence (when the virus that causes COVID-19 stays in the body and causes damage to organs or the immune system to not function properly) may cause long COVID symptoms. "Long COVID affects nearly all body systems and we need more information to support the safe use of potential treatments for people with this condition," said Kanecia Zimmerman, M.D., Ph.D., M.P.H. "This study will help us learn if taking PAXLOVID for a longer period of time than its current approved use improves long COVID symptoms."
PAXLOVID is provided by Pfizer, Inc., New York City, and is currently approved for the treatment of mild-to-moderate COVID-19 in adults who are at high risk for progression to severe COVID-19, including hospitalization or death. When a person is given PAXLOVID for an active COVID-19 infection, their treatment course lasts for 5 days. In this study, adult participants will take a study intervention for up to 25 days.
Up to 900 total participants will be enrolled in RECOVER-VITAL for about 6 months, including a 25-day study intervention period and follow-up visits. Enrollment will take place at clinical research sites located throughout the United States. A track record for enrolling diverse participants was a key criterion for site selection. Site staff will contact their patients and residents in their local communities to enroll a diverse and inclusive study population. All trial sites will be listed on the RECOVER-VITAL clinicaltrials.gov study record.
Those interested in learning more about RECOVER clinical trials should visit trials.recovercovid.org.
About RECOVER: The National Institutes of Health Researching COVID to Enhance Recovery (NIH RECOVER) Initiative is a $1.15 billion effort, including support through the American Rescue Plan Act of 2021, that seeks to identify how people recuperate from COVID-19, and who are at risk for developing post-acute sequelae of SARS-CoV-2 (PASC). Researchers are also working with patients, clinicians, and communities across the United States to identify strategies to prevent and treat the long-term effects of COVID – including long COVID. For more information, please visit recovercovid.org.